North Carolina fishing maps and GPS fishing spots to some of the best fishing spots in North Carolina. Our North Carolina fishing spots and GPS coordinates work with your boats GPS, computer and mobile devices for coastal NC offshore fishing and inshore fishing from select guides and pro fishermen from each local fishing location. Own the top fishing hot spots for the Outer Banks, Hatteras, Oregon Inlet, Topsail, Oak Isle Swansboro, Beaufort, Albemarle and more for trolling, drifting or bottom fishing. All of our fishing maps are precisely organized by area and provided by local guides to bring you the best North Carolina fishing Hot Spots available since the Profinder fishing spots from years ago. See all North Carolina fishing spots locations here. Also, you can see how it works and what's included here
These fishing spots provide proven GPS coordinates to live bottom areas, ledges, outcroppings, offshore reefs, offshore wrecks, inshore hot spots, productive banks, points and oyster beds along with other proven fishing spots provided by our network of pro's. They have placed their knowledge, comments and GPS Coordinates to bring you the best digital fishing spots ever available. All fishing spots and GPS files work with Garmin, Simrad, Lowrance, Raymarine, Humminbird and Furuno TZ Touch, Mobile Devices and Tablets. Mobile and computer users will enjoy the built in NC NOAA Offshore Nautical chart (works on most devices) Choose your North Carolina fishing spots here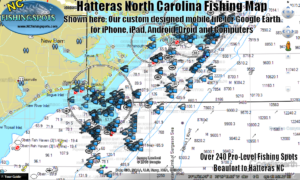 Go Mobile! Import our Fishing Spots file directly to most any Mobile Device with IOS and Android. Load it to Google Earth and go fishing! Use our included mobile fishing spots map for Google Earth or our suggested GPS apps to use your phone or tablet for trip planning ans more with our included Google Earth Nautical chart overlay..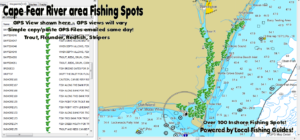 Load to your GPS!  All our fishing spots are emailed to you with simple 'copy and paste' files for your GPS. Paste the file for your GPS model to a blank SD Card and you're all set! Works with Garmin, Lowrance, Humminbird, Raymarine and Simrad GPS models. These GPS files are included with any purchase of any area offered here. Pre-loaded SD cards are also available upon request, contact us here.
This is a complete fishing spots map system that helps you save fuel and catch more fish during your time on the water. Due to the fact, we have made sure you can view info and comments on your fishing spots any place, any time, change icons, add personal fishing notes! See what's included with all of our North Carolina fishing maps/fishing spots bundles.
---
Whether you're a beginning fisherman or an avid angler, you will benefit from our fishing spots and offshore fishing and rigging tutorials included with all fishing maps offered and purchased from any of our websites. Always look for the blue oval logos on the header of our websites to be sure you're shopping the original GPS fishing maps company product line. Remember, our private fishing spots are provided by local guides separating us from the competition for over 13 years running!
---
The following brands support GPS Fishing Maps and we highly recommend them all for your saltwater fishing needs from fishing tackle and attire to sunglasses, these brands are the best in the business. Period.

For fastest response to your inquiries, please use our quick contact form found here. Thank you for browsing our website(s) and see the Sitemap or Links of Interest Here. Fish on..! —Dana King, Operations Manager for GPS Fishing Maps Co.