Hatteras to Oregon Inlet North Carolina Fishing Map
Hatteras NC Fishing Map to Oregon Inlet Fishing Spots Map
Fishing Spots for Hatteras to Oregon Inlet Northern North Carolina for offshore fishing starting from Hatteras up to Oregon Inlet. Hit the inlet and head offshore with with over 125 proven offshore fishing spots. Easily Import our Fishing spots to your GPS or mobile devices and fish top fishing spots and troll or bottom fish over fish habitat such as hard bottom, live bottom, troughs, offshore reefs and wrecks, structure and proven ledges or drops. Our private fishing spots are provided and precisely organized by several local guides inour network. With their help, we're proud to bring you the best fishing spots and fishing data available anywhere, period! This is far more than just the local public Offshore Reef fishing spots on our offshore maps. See how our Fishing Maps work here
Top Fishing Spots from local Pros! Some of the best fishing spots available for North Carolina offshore fishing. Start catching more fish today! If you're in need of some of the top fishing spots and fishing hot spots for offshore fishing in Hatteras North Carolina and Oregon Inlet, you have landed on the right website.. If you don't have good fishing spots and GPS coordinates, you're shooting in the dark to a great extent. Never buy another paper fishing chart or fishing Map again! Our product works with all the fine brand names shown in the image below.

Where did our North Carolina Fishing Spots come from? Our company started as a private network of GPS coordinates among guides nearly 15 years ago. Over the past few years, the group has agreed to finally make many of these fishing spots available to the public! Until recently, this network was private and for guides only. You really can't buy what we offer anywhere else on a website or fishing chart. Period. Shoppers note: Don't be fooled when shopping for fishing spots online. Our data is often copied and used on others websites. To be sure you're shopping on a GPS Fishing Maps official site, always look for our blue logo on top of all our websites. (See how our fishing spots work here)
Hatteras to Oregon Inlet North Carolina Fishing Map
 – Direct to your Boats GPS Upload using an SD Card that works with Garmin, Lowrance, Simrad, Raymarine, Humminbird and Furuno TZ Touch models that accept an SD card. See sample image below. Note that all GPS views vary greatly depending on your GPS model. Our copy and paste GPS files work with just a few clicks and a blank SD card. Get easy DIY results in minutes. (Note:
Contact us
 to have an SD card preloaded with these fishing spots for your GPS and mailed to you!)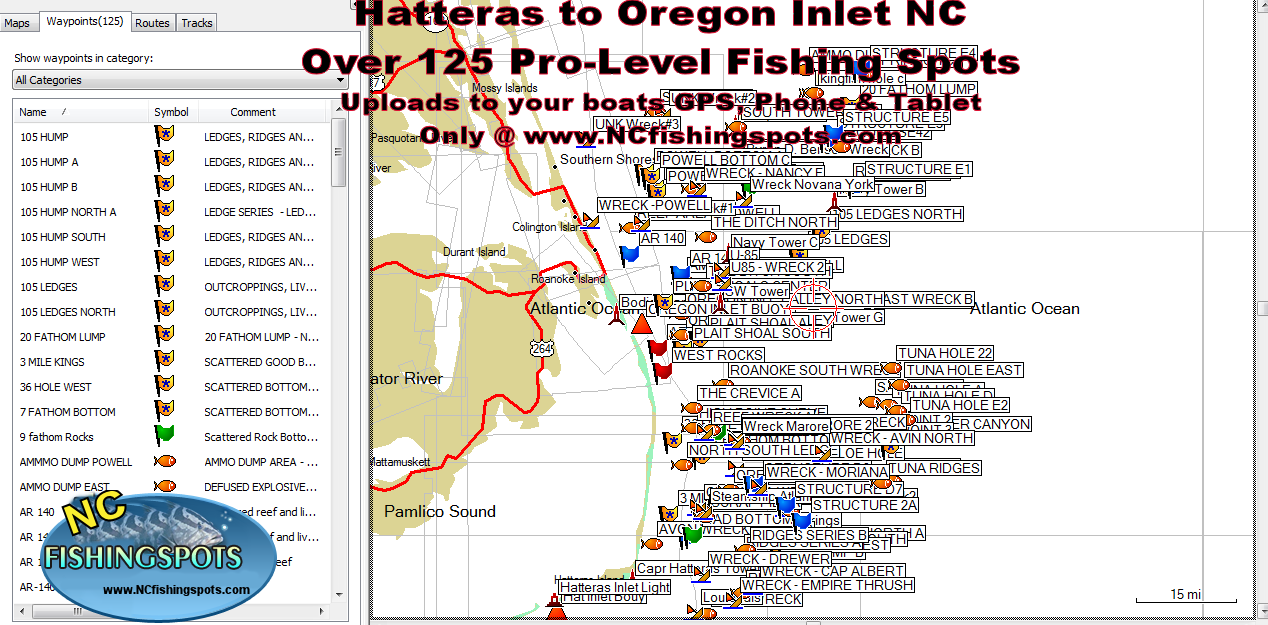 Hatteras NC to Oregon Inlet North Carolina Fishing Map – Fishing Spots Map for iPhone, iPad, Android, Droid, Computers and other devices using the free Google Earth App.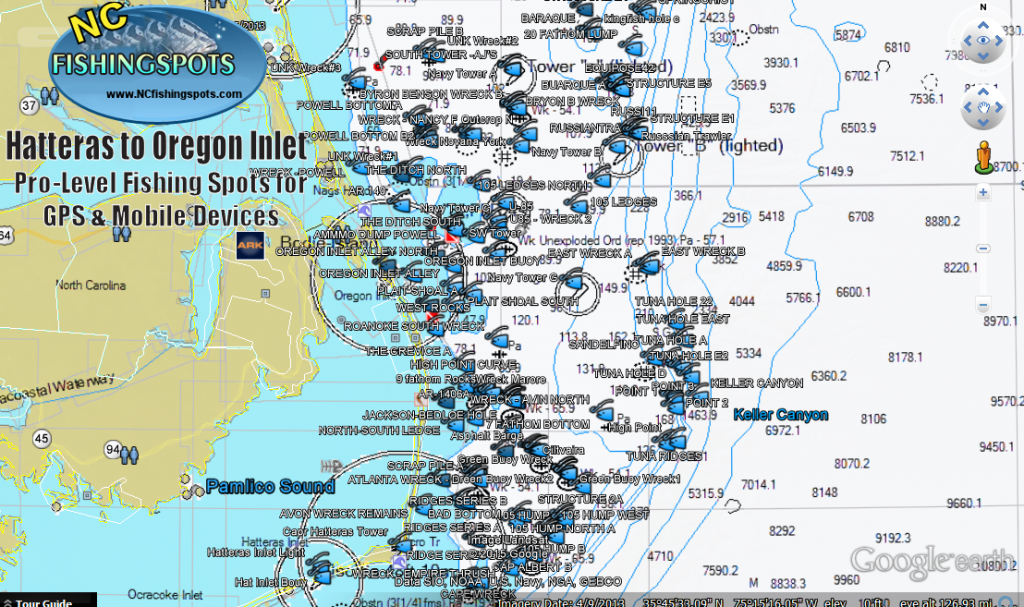 Purchase this Fishing Map below for your boats GPS, Phone and Tablet. Remember, our GPS file uploads to your boats GPS unit in just minutes using your SD card. Works with most late model GPS units, Phones and Tablets.
Contact us here
with questions or for information.

Purchase Hatteras to Oregon Inlet Fishing Spots Map –

$99.99 – $119.99
---
Pay with PayPal or any card. As always, purchase securely and worry free from any of our GPS Fishing Maps Web Sites. Always look for the Blue Oval logo on the top of our websites in any state! See our Company Security Verification. We've been a secure merchant with 100% positive feedback for over Ten Years Running.

Note
: If you have any trouble with checkout or would rather place your order with a human, please 
contact us here
and include all your contact info and we'll be in touch quickly. Thank you!