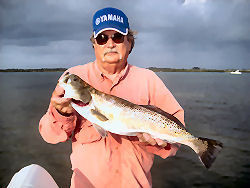 Our Cape Fear River Fishing Spots offers fishermen endless opportunities for inshore fishing. The Cape Fear River fishing spots gives anglers a Fishing Map that targets several fish species including Trout, Redfish, Striper, Flounder and other inshore fish that frequent the Cape Fear River area. Coverage includes Fishing Spots in Southport NC, Brunswick NC, Baldhead Island NC, Nyrtle Grove NC and Wrightsville Beach NC.
The Cape Fear Fishing Spots and GPS Coordinates loads to your boats GPS and your mobile devices such as iPhone, iPad, Droid and Android. Our Mobile Fishing Map files load directly from the email we send you with several apps we reveal in the instructions. Fishing Spots GPS Compatibility.All our fishing spots are compatible with the following marine GPS brands. Garmin, Lowrance, Simrad, Raymarine and Humminbird GPS models that accept an SD card. We email a zip file containing very simple copy and paste GPS files you can load to your own blank SD card, import to your GPS with a computer and just a few clicks! No more endless days or nights manually entering GPS coordinates one at a time. Those days are over and our customers agree!

See our Cape Fear Fishing spots map loaded to a GPS using the included copy and paste GPS file. views will vary depending on your installed mapping. Our Fishing spots will "float" on your map screen for normal navigation and will appear in your waypoints list as well. Most GPS models offer options to start navigation from the Map screen or the waypoints list.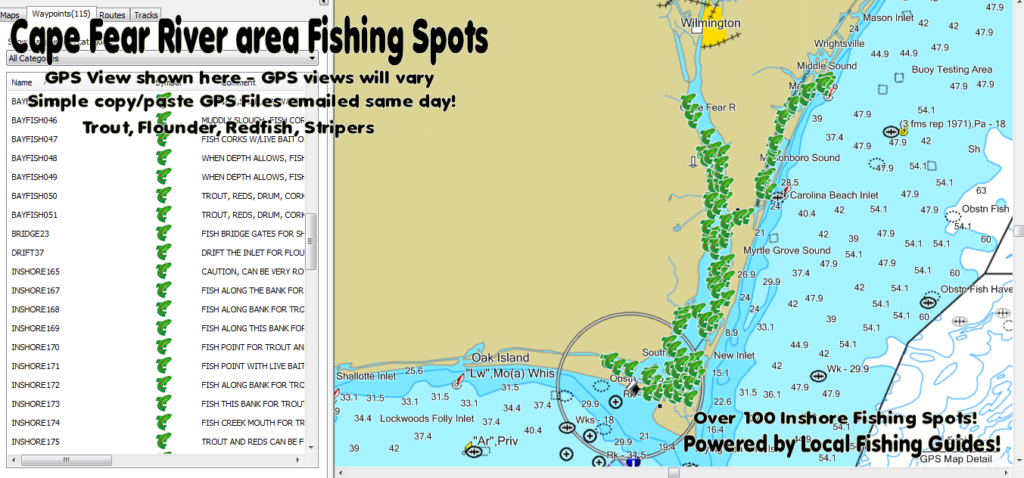 Cape Fear Fishing Map and Fishing Spots loaded to a Mobile Device or Computer using Google Earth and other GPS Fishing Apps shown here. Exact views will vary greatly depending on mobile software versions of said Apps and devices.
---
Purchase the Cape Fear River Inshore Fishing Spots Map – Only $99.99!
Click the red button below to purchase the Cape Fear Inshore Fishing Spots Map for your boats GPS and Mobile Devices. All files needed are included and emailed to you the same day of purchase!
---
Please feel free to contact us anytime using our quick contact form found here. We appreciate the loyalty of our many customers and look forward to serving our new and potential customers this season and seasons to come! Thank you for visiting NC Fishing Spots. Fish on!