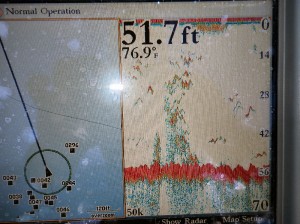 North Carolina Fishing Spots for Marine GPS. Our North Carolina Fishing Spots Maps load to the top Marine GPS brands and models. Use our spots with Garmin, Lowrance, Simrad, Raymarine and Humminbird GPS models that accept an SD Card.
We've made it super easy for users of all skill levels. We provide simple, easy to use 'copy and paste' files. These files are emailed to you the same day of any purchase to get you on the water right away!
For our customers and potential customers, it should be noted that we have been providing Guide level Fishing Spots Maps for a variety of GPS models for over ten years in most coastal States.
---
Top reasons fishermen choose our product
No more entering GPS Coordinates Manually
Simple Copy and Paste files are included and emailed for all GPS Brands above
Pre-loaded SD cards are also available upon request, contact us here.
Confirmed Fishing Spots from several Top Fishing Guides locally
Files included for iPhone or Android Mobile use with Google Earth or other GPS apps
Top Fishing Hot Spots to Ledges, Wrecks, Reefs, Live Bottom, Breaks, Rips and more.
Reasonably Priced for most any Offshore Fisherman
All GPS Fishing Maps products are rated 4.7 – 5.0 Stars by our Customers!
---
Fishing Spots Maps for Mobile Devices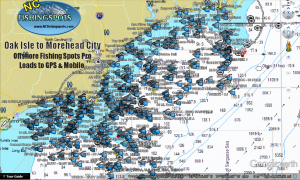 North Carolina Offshore Fishing Spots for Google Earth and Mobile Devices include our exclusive "Nautical View"™ Offshore Nautical Fishing Charts by NOAA and other sources that overlay on the sea floor in your purchased offshore fishing map area(s).. This Nautical charting is designed and offered exclusively by GPS Fishing Maps Co, LLC and North Carolina Fishing Maps, LLC. We are the first designers to integrate our own Nautical Chart overlays, linked to your purchased area(s) from our Map server..
The Fishing Chart overlay links precisely with your purchased fishing area(s) and the fishing spots "float" over the chart as seen in the screenshot here. You can tap spots to see comments. Note: This file is included with any purchased Fishing Map area and works with iPhone, iPad, Droid, Android and computers using the free Google Earth App!
Shoppers Note: Always be sure you see our BLUE OVAL LOGO on the header when shopping for Guide Level fishing maps online. This logo is found on top of all our websites in (9) Coastal States. We are the original and only company online working directly with fishing Guides to bring you a superior product. We've been in the fishing spots business for over 10 years online and on land.
* Use with the free Google Earth App found on the iPhone Market or Android (Other GPS apps, too!)
* Any purchased Fishing spots and matching chart are built into one file for simple Mobile use
* View Offshore Depth Contours and other chart options right from your Computer or Mobile Phone device
* See where breaks and rips are found, on an around contours and shallow humps in offshore waters near your fishing spots
GPS Fishing Maps LLC owns certain copyrights and trademarks to data found in iyr product files and on this website. For more information with a speedy reply to your questions, please use our super fast contact form found here